Chapter VII – Harvest optimization, forest regeneration and soil protection
Division I – Harvest and optimum use of ligneous matter
Section 147
Tree cutting must be carried out at a height not exceeding 25 cm above the highest ground level.
Where snow depth on the ground reaches a height equivalent to a column of water at least 20 cm high, the maximum height of the stumps must not exceed 45 cm. 

1
Objectives
To avoid wasting wood
To obtain the operational flexibility required for certain forest development activities
Additional information
The map of recent climate data observations 

 (in French only), gathered through Québec's Climate Monitoring Program, can be consulted for details of snow depth on the ground.
We recommend that you contact the regional office of the Ministère des Forêts, de la Faune et des Parcs (in French only) to agree on the time from which the depth of snow on the ground is sufficient to cut trees at a height of more than 25 cm, but less than 45 cm, above the highest ground level, based on a column of water at least 20 cm high.
On an ad hoc basis, snow accumulates very significantly. When a snowfall reaches a column of water height of over 25 cm, a request for an exemption to the Regulation under section 40 of the Sustainable Forest Development Act can be made with the management unit in charge to increase the permitted stump height to 60 cm. This agreement will specify the date on which 60 cm stump heights are permitted, the site or harvesting area involved, and the mechanism for determining when a return to normal stump heights will be required.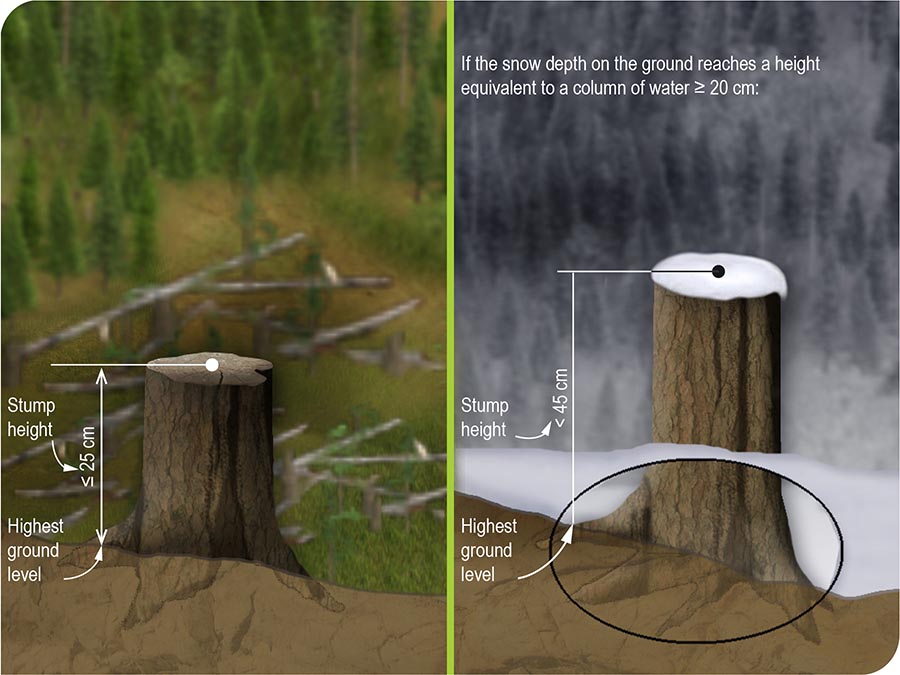 Figure 147 Maximum stump height